WWHR, SAP & Part L
Book a free webinar
Want to find out more about how Power-Pipe WWHR can help you meet the new Building Regulation Part L in 2022?
What is SAP?
SAP stands for Standard Assessment Procedure and is the official methodology used by the Government to assess the energy efficiency of new houses and flats/apartments. It was designed by the Building Research Establishment (BRE) in 1992 as a tool to drive its energy efficiency policies and reduce C02 emissions.
SAP has been a mandatory requirement of Building Regulations Part L since 2006 meaning that new dwellings would have to achieve a certain SAP score/energy efficiency to pass building regulations.
Over the past decade, these regulations have become increasingly tightened to ensure developers build more sustainable homes which minimise environmental impact by guaranteeing valuable resources are used effectively.
How does SAP work?
SAP is a software program which calculates the amount of energy a building will use once it is built. The building is modelled in the software by entering the exact specification of the dwelling. It produces a score between one and 100. The higher the SAP rating, the lower the fuel costs, and the lower the associated emissions of carbon dioxide. Anything over 100 indicates a house which is a net exporter of energy.
Examples of products within a SAP calculation
Wall construction and levels of insulation
Windows – the number and level of insulation
Heating system – are you using a combination boiler or a heat pump? Different products also have different efficiencies
Waste Water Heat Recovery Systems (WWHRS) – Power-Pipe
Solar Thermal and PV
Mechanical Ventilation with Heat Recovery (MVHR)
Passive Flue Gas Heat Recovery
Heating Controls
What is SAP10? *NEW FOR 2022*
Coinciding with the new Approved Document Part L 2021, which is due to come into effect from 15 June 2022, is the new version of SAP; SAP10.
In SAP10, the methodology has been updated to more accurately reflect the energy consumption of buildings. One of the major changes to the calculations is the introduction of a new hot water model, which is more accurate than the previous versions of SAP.
In turn, this means that WWHR has a much larger impact (2 to 3 times more effective) on the energy performance of a dwelling, making it even more cost effective than before.
Building Regulation Part L and Part L1A
Building Regulations Part L deals with the conservation of fuel and power which was established in 2006. Part L1A applies to new dwellings and one of its objectives is to ensure that new buildings increase their energy efficiency to meet targets set by the government.
Building regulations are mandatory and in order to meet them, builders need to gain a 'pass' on their SAP calculations. Without it, building control will not sign off the development and the property cannot be let or marketed for sale.
The current version of Part L - the 2016 edition - is about to be updated by the 2021 edition which will see a 30% reduction in CO2 emissions from the current level (more on this below). The government plans to achieve the remaining 70% reduction in CO2 - to Net Zero Carbon homes via the Future Homes Standard in 2025.
Building Regulation Part L 2021 edition
Effective from 15 June 2022, the 2021 edition of Building Regulation Part L will see the minimum requirement for a new dwellings energy performance increase significantly. In order for a dwelling to pass Part L, it will have to reduce its carbon emissions by approximately 30% compared to the previous standard.
The government have provided a 'notional dwelling' as an example of how to achieve this reduction and pass the new regulations. For a typical 3 bed semi-detached house, it is done by including 1.5kW of Solar PV and a WWHR system, with each of these measures providing approximately a 15% reduction in CO2 emissions.
What is interesting is how much more cost effective the WWHR is, which can be seen in the table below.
With the Building Regulations requirements changing and the SAP10 model giving more credit to WWHR, it is likely that WWHR will become a common technology used in new build homes.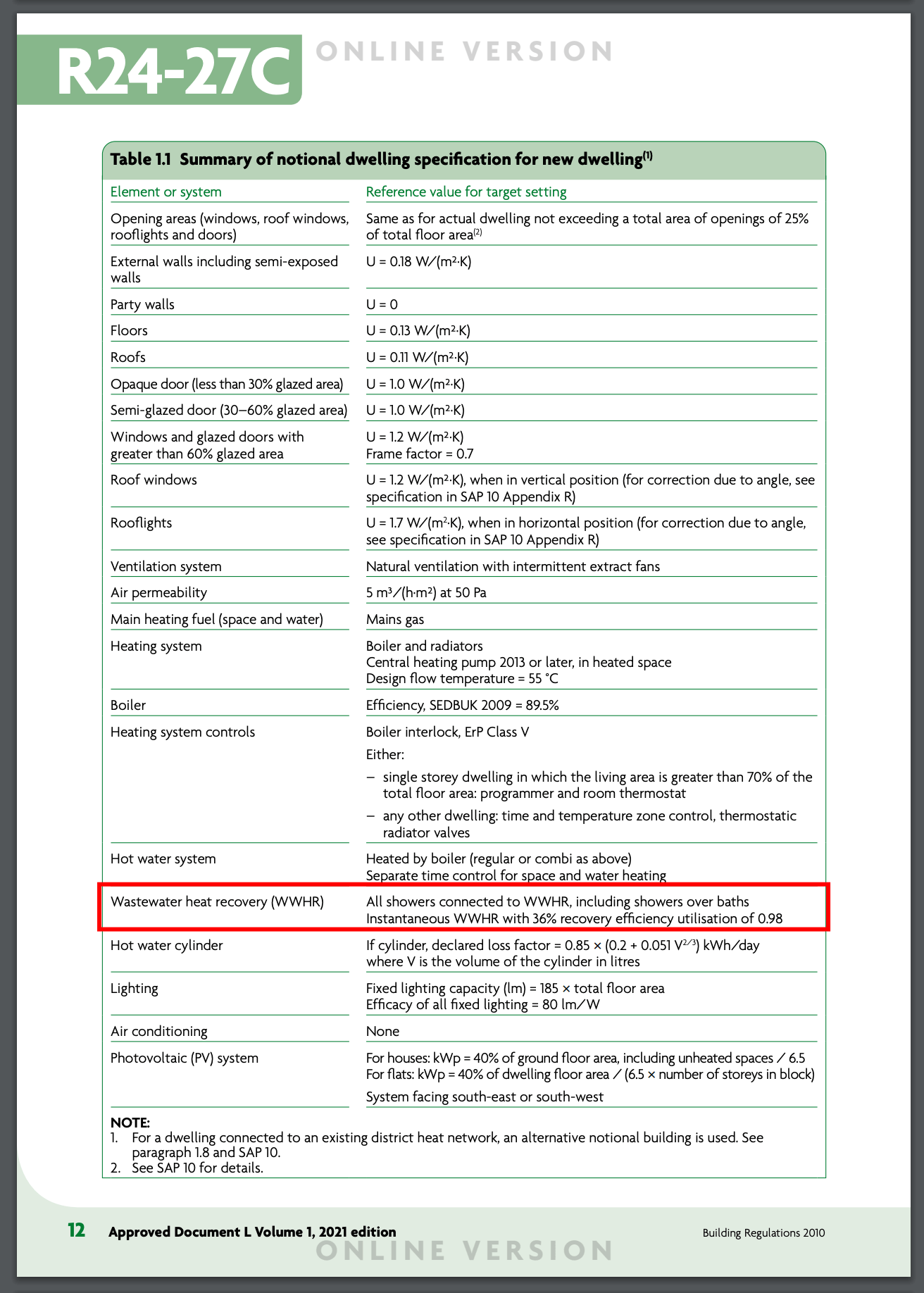 Future Homes Standard
The Future Homes Standard is due to be introduced in 2025 with all new homes built as Net Zero Carbon.
This is a significant decrease in carbon emissions - a further 70% from the current standard.
It is anticipated at this point that it will largely be met by utilising electricity generated from renewable sources as the primary heating source via Heat Pumps.
Consultation for the Future Homes Standard is scheduled for 2023.
WWHR and SAP
Power-Pipe WWHR is one of the most cost-effective products that can be used to increase a building's SAP score. The table below shows the comparable cost against other SAP products.
How does the Power-Pipe WWHRS compare with other SAP technologies and products?
The following table shows you the different products that can be applied to a SAP calculation, alongside the typical SAP increase they provide and their cost.
You can use this table to see just how cost effective a Power-Pipe is against other technologies.
| Product | Est. SAP10 Increase | Product Cost | Installation Cost | Maintenance | User Interaction | Cost per SAP 1% |
| --- | --- | --- | --- | --- | --- | --- |
| Power-Pipe E2-84 | 15% | £450 | £50 | N | N | £33 |
| Solar PV (1.5kW) | 15% | £4,000 | £500 | N | N | £300 |
| Insulation (increase by 50mm to 150mm) | 2% | £500 | £0 | N | N | £250 |
| Air source heat pump | 70% | £5,000 | £1,500 | Y | Y | £93 |
| Biomass Boiler | 65% | £10,000 | £2,000 | Y | Y | £184 |
| Solar thermal | 15% | £3,500 | £500 | Y | N | £266 |
| MVHR | 3% | £1,000 | £500 | Y | N | £500 |
All Power-Pipes have been independently tested and assessed by BRE. The efficiency ratings you see on our website are the official SAP scores that you will find in the SAP calculator.
How can we help?
If you are a developer, or involved with specification and would like any further information about how Power-Pipe can help you meet Part L or increase your SAP score, please contact us.
We can also arrange a meeting or CPD for larger companies who may benefit from a hands on demonstration of the device and presentation of its use and benefits.